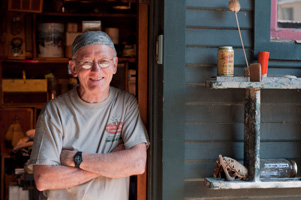 BIO
Working in a variety of media, Tony May's art has often taken the form of site-responsive installations and has a strong leaning toward the conceptual, the quasi-functional and the whimsical. He believes in the importance of craftsmanship and the hands-on involvement of the artist. Projects such as the building of the idiosyncratic structure "T. House" and subsequent production of a series of photo-realist paintings documenting selected aspects of that construction process, reveal much about his belief in the importance of work itself as well as in the reflection upon it. An earlier series of documentary paintings was entitled, "Home Improvements."
His art has been shown widely in California including shows at the San Francisco Museum of Modern Art,
San Francisco Art Institute, 80 Langton Street, Capp Street Project, San Jose Museum of Art, and the deSaisset Museum. In 2010-11 a 40+year retrospective of his work entitled, "Tony May/Old Technology" was installed at the San Jose Institute of Contemporary Art (ICA.) He has also exhibited in other parts of the United States, England, France, Japan and Thailand. In 1998 he completed a major public commission for the city of San Jose, which commemorates Agriculture in the Santa Clara Valley.
Tony May, Emeritus Professor of Art, taught at San Jose State University from1967 until 2005. He also taught for one year at the University of Wisconsin-Sheboygan, for one term at Sheffield City Polytechnic in Sheffield, England and for one quarter at Santa Clara University in Santa Clara California. Born in Mineral Point, WI in 1942, he received his MFA degree from the University of Wisconsin-Madison where he studied with Warrington Colescott, Steven French and Don Reitz. He has taught in both the Pictorial and Spatial Arts areas. Courses have included Color Theory, Drawing, 2 and 3 Dimensional Design, Painting, Sculpture, a variety of Graduate Seminars and a class focusing on group art activity, "Art in Community." In Spring 2004, the Art In Community Class designed and completed installation of a public art project commissioned by the City of San Jose. The work is located in Bestor Street Art Park on South 5th Street adjacent to the School of Art and Design Foundry.
It was dedicated, along with the park in fall 2004. More recently, he and a different group of SJSU students completed a monumental-scale memorial artwork for another City of San Jose park. The piece entitled
"El Paraguas del Padre Mateo" was dedicated in September 2008.
SELECTED EXHIBITIONS AND INSTALLATIONS
"New and Old Variables, Portables, Collapsibles and Other Art-like Objects and Devices. Also Old Documentary Paintings," b. sakata garo, Sacramento, CA, 2016
"Airplane Show," in collaboration with Chris Daubert, Group exhibition, b. sakata garo, Sacramento, CA, 2015
"Mark and Anne's Art Party," Group exhibition, San Jose, CA, 2014
"Artik," Art and Architecture, Group exhibition, San Jose, CA, 2014
"Bibliophilia," Group exhibition, Palo Alto Art Center, Palo Alto, CA, 2013
"Left to Chance," Group show, San Francisco Center for the Book, San Francisco, 2012
"Get Lucky: The Culture of Chance," Group show curated by Hanna Regev, SOMArts Cultural Center,
San Francisco, 2012
"Tony May / Old Technology," (40+ Year Retrospective Exhibition,) San Jose ICA, San Jose, CA 2010-2011 (catalog)
"artMRKT San Francisco," Group exhibition, San Francisco, 2011
"(Un)common: The Art of Altered Objects," Art Department Gallery, Santa Clara University, Group show curated by Renee Billingslea. 2008
"California to Bangkok and Back," Works / San Jose, San Jose, CA, 2007-2008
"Winter 2007 Exhibit" Group show curated by Jane Salvin, Heritage Bank , San Jose, CA, 2007-2008
"Artists & World Environment" Thai-American Art Exhibition 2007, Art Centre, Silpakorn University, Bangkok, Thailand (catalog)
"Tony May, The Meager Retrospective (Work from the Basement Archives)" Louie-Meager Art Gallery, Ohlone College, Fremont, CA, 2006
"Pac III: Thai-American Art Exchange, University Art Gallery, California Polytechnic State University,
San Luis Obispo, CA, 2006
"Change 2005-2006" Euphrat Museum of Art, De Anza College, Cupertino, CA, 2005-06
"Domestic Odyssey," Group exhibition curated by JoAnne Northrup, San Jose Museum of Art, San Jose, CA, 2004, (catalog)
"Fall Exhibition," Heritage Fine Arts Collaborative, Group show curated by Jane Salvin, Heritage Bank,
San Jose, 2002-03
"Spatial Arts Faculty Exhibition," School of Art and Design, San Jose State University, Spring 2002
"This is Not a Book," group show curated by David Pace, San Jose Institute of Contemporary Art,
San Jose, 2001
"Six Shop Doors Fit for a Temple and a Transient T/Tree House," Collaborative Installation with Lonny Tomono, East Hawaii Cultural Center, Hilo HI, 1999
"Remembering Agriculture" A Memorial to Agriculture in the Santa Clara Valley, Commissioned by the City of San Jose Dedicated Fall 1998.) Project is permanently located in Guadalupe River Park on W. Santa Clara Street, San Jose, CA
"Spatial Arts Faculty Exhibition," School of Art and Design, San Jose State University, Spring 1998
"Coming of Age," work by past and current members of the board of directors, WORKS/San Jose, 1998
"Outside In," group exhibition of drawings and maquettes of public art projects currently in progress for the
City of San Jose. San Jose Institute of Contemporary Art, 1995
"The Library Show," group exhibition, Winstead Library Gallery, Sierra College, Rocklin, CA,1995
"Pictorial Discourse," Pictorial ArtsFaculty Exhibition and Panel Discussion, Gallery One, San Jose State University, 1994
"Neither is This," Painted assemblage with mailbox flag. Part of group exhibition, Gallery One, San Jose State University School of Art and Design, 1994
"Capp Street Project Bricks 1994," Piece entitled "T. Brick Lamp," Capp Street Project, San Francisco, CA,
Jan-Feb, 1994
"Switches," Exhibition of art lamps, piece entitled "M. Lantern," Gallery One, San Jose State University School of Art and Design, 1993
"San Jose Sumo Basho Art Exhibition," San Jose Museum of Art, San Jose, CA, 1993
"Views of the T. House," Installation with Ken Phillip, San Jose Institute of Contemporary Art, San Jose, CA,
May 1993
"Views of the T. House," installation with Ken Phillip, Sheffield Hallam University Art Gallery, Sheffield, England, January 1993
"Memories, Dreams, and Reflections," Exhibition of art done with mirrors. Piece entitled "Mere Appearance–Buddhist Paraphernalia," Gallery One, San Jose State University Art Department, 1992
"Variable Book Construction (Bookmobile)" - Site-specific installation commissioned by San Jose Museum of Art for the entrance lobby of new wing of the museum, San Jose, 1991-95. Piece remains in the SJMA collection.
"Doing Time" an exhibition of artist's clocks. Piece entitled "T. Time Table," Gallery One, San Jose State University Art Department, San Jose, 1991
"Chairitable Inventions," an exhibition and auction of chairs transformed by artists. Piece entitled "Chair O' Tea." Gallery One, San Jose State University Art Department, 1990
"Two Tea Jugs," piece done for Artist's Tee Shirts Exhibition and Auction, WORKS/San Jose, 1989
"For the Birds," exhibition and auction of artist-made birdhouses, San Jose State University Art Department, Gallery One, 1989
"Le Livre Dans Tous Ses E'tats," organized by the Biblitheque Municipale and Galerie Caroline Corre, A.T.B. Theatre de Beauvais, France, November 1988
"Exposition Le Livre - Dans Tous Ses Etats," Bibliotheque Municipale D'Argenteuil, France. Group exhibition organized by Galerie Caroline Corre, Paris. March 1987
"His/Hers," collaborative installation "The Nut Cracking Bench," with Therese May, WORKS/San Jose, 1987
"Faculty Draw," group exhibition, Gallery One, Art Department, San Jose State University,
November-December 1987
"Le Livre Objet," Centre Culturel de la Somme, Amiens, France, December 1986 - February 1987.
Group exhibition organized by Galerie Caroline Corre, Paris
"Experimental Books," WORKS/San Jose, San Jose, CA, October 1986. Group exhibition curated by
Margaret Stainer
"The Artist and the Machine," deSaisset Museum of Art, Santa Clara University, Santa Clara, CA, 1986
"The School of San Jose," (part of "The San Jose Biennial"). Art Department, San Jose State University,
San Jose, CA, 1986. (Catalog)
"Seven Year Update: The Blue-Green Collection. "The Artist Selectors Show," (part of "The San Jose Biennial"), WORKS, San Jose, CA, 1986
"L'Art Du Livre," Biblioteque A. France, Villeneuve-le-Roi, France, 1985. Group exhibition organized by
Galerie Caroline Corre, Paris
"Functional House," collaborative installation, with Bob Jones, at "Capp Street Project," artist in residency, January 1 - March 31, 1985, San Francisco, CA. (Work documented in catalog: "Capp Street Project,
1985, 1986," published by Capp Street Project, San Francisco, 1987)
"Powers Circle," collaborative installation, with Percy Peacock and students, Sheffield City Polytechnic, Psalter Lane Site, Sheffield England, June, 1985
"Meg Door/Guto Gate, An English Home Improvement," for Manuel Chetcuti, Sheffield, England, 1985
"Le Livre Dans Tous Ses Etats," livres-objets, Galerie du Centre d'action Culturelle Pablo Neruda, Corbeil Essones, France, 1984
"Written On Sculpture," Olive Hyde Art Gallery, Fremont, CA, September-October, 1984
"Tony May-Paintings," Renshaw Gallery, Linfield college, McMinnville, OR, September, 1984
"Home Improvement Paintings," one person exhibition, Guggenheim Gallery, Chapman College,
Orange, CA, 1983
"Les Etats Du Livre," tome I: livres d'artistes americains, Galerie Caroline Corre, Paris, France, 1983.
(work reproduced in "L'oeil," April, 1983)
"San Jose Artists Exhibition," Tenmaya Exhibition Hall, Okayama, Japan, 1982
Permanent Installation: "Remedying Two Small Flaws," "South Bay Sculpture," Sunnyvale Community Center, Sunnyvale, CA, 1982 (catalog)
Installation: "Red Branch Retrofit-Clark Modification," Robert D. Clark Library, San Jose State University,
San Jose, 1982- 2005
Work included in invitational show of Bay Area art, Fashion Moda Museum, South Bronx, New York City, 1982
"Miniatures 82," Invitational Exhibition, Triton Museum of Art, Santa Clara, CA, 1982
"Home Improvements," one person exhibition, 80 Langton Street, San Francisco, 1981. (This exhibition was documented in "80 Langon Street Catalog - May 1981 - April 1982")
"Fashion Moda - SF-NY-SOUTH BRONX-LA-OAKLAND," Galeria de la Raza, San Francisco, 1981
"Masqued Headgear Invitational Exhibition," San Jose Institute of Contemporary Art, San Jose, 1981
Installation: "Red Branch Retrofit," 80 Langton Street, Fifth Anniversary Show at the Knights of the Red Branch Hall, San Francisco, 1980. (This installation was documented in "80 Langton Street - May 1980 - April 198l " )
"Home Improvements," One Person Exhibition, deSaisset Museum of Art, Santa Clara University,
Santa Clara, CA, January, 1981
"Visualog," California Polytechnic Institute, San Luis Obispo, CA, 1979
"Artists' Soap Box Derby," sponsored by the San Francisco Museum of Modern Art, concept and design for "WORKS" Gallery car: "The Soap Box Derby," member of construction team, 197
Installation: "The Miracle of the Fishes," at Paseo de San Antonio fountain in conjunction with "The San Jose Exhibit," San Jose Museum of Art, San Jose, CA, 1978
"Private Life of Rrose Selavy," Helen Euphrat Gallery, De Anza College, Cupertino, CA, 1978
"Art Stories," Libra Gallery, Claremont Graduate School, Claremont, CA, 1977
"Huffaker, May and May," San Francisco Art Institute, San Francisco, CA, 1976
"Tony and Therese May," Cabrillo College Art Gallery, Aptos, CA, 1976
"Works with Words," University of California, Santa Barbara, 1975 "Word Works Two," San Jose State University, San Jose, CA, 1975
Installation: "This Area Closed for Installation of Monumental Sculpture," San Jose Civic Art Gallery,
San Jose, 1972
"Distribution?," travelling exhibit organized by Steven Zaima, "The Museum Avant-Garde," Davis, CA, University of California at Davis, 1971, University of California, San Diego, 1972
"Inaugural Exhibition," San Jose Civic Art Gallery, San Jose, CA 1971
"Four Sculptors," San Francisco Museum of Modern Art, 1971, installation: "Variable Construction Altered by the Chance Rearrangement of My Living Room Furniture".
"San Francisco Art Institute Centennial Exhibition," M.H. De Young Memorial Museum, San Francisco, CA, 1971
"Shasta College Invitational," Redding, CA, 1970
One Person Exhibition: "Tony May-Drawings," Hansen-Fuller Gallery, San Francisco, CA, 1970
"Water," University of California at Davis, Group Invitational, 1969
"Eleven at Ghirardelli," Michael Walls Gallery, San Francisco, "The Trap of Romantic Art" installation, 1969
One Person Exhibition: (Including Large Variable Construction installation) San Jose City College,
San Jose, CA, 1969
"Paper," San Jose City College, San Jose, CA, 1968
"In the Sculpture Bag," San Jose State University Invitational Exhibit, Art Department Gallery, 1968
"San Jose City College Juried Annual," San Jose, CA, 1968
"Media in a Supermarket," John Michael Kohler Art Center, Sheboygan, Wisconsin, 1968
"Four Sculptors," Valparaiso University, Valparaiso, Indiana, 1968
"Summer Group Show," Galerie Carl Van der Voort, San Francisco, CA, 196
"Southern Wisconsin Sculpture Invitational," Milton College, Milton, Wisconsin, 1967
One Person Exhibition: University of Wisconsin, Sheboygan, 1967
"Wisconsin Designer Craftsman," Milwaukee Art Center, Milwaukee, Wisconsin, 1964 and 1965 (award)
"31st Wisconsin Salon," University of Wisconsin, Madison, 1965, (major award)
"1964 Biennial of Painting and Sculpture," Walker Art Center, Minneapolis, Minnesota, 1964